Lenar Shayeh "One of you"
Poetry is a reflection of the poet's soul, his vision of the world. The universe of Lenar Shayeh is bathed in sunshine, brightly lit, and plays with vibrant and vibrant colours. As the author himself admits, his soul is "filled with purity", it is a happy person living a full-blooded life. The feeling of love for everything that surrounds him, for his homeland, creativity, a woman is so strong and all-embracing that the longing soon recedes.
---
Marsel Salimov "The book which has never been written before"

This book is an important milestone in introducing post-Soviet literature to international readers. Indeed, it opens to the curious readers a completely new and largely unknown universe of the splendid literature of a small nation, but with marvellous cultural heritage on the cross-road of Asia and Europe.
The famous Bashkir comedian offers his readers to go through various funny love adventures together with the two heroes of an "almost love story".
---
Назикен Алпамыскызы "Қияжол ғұмыр" (Kazakh Edition)
It is understood: not all verses are poetry. This indisputable truth was especially strongly inspired by the tribesmen of Abai.
Alas, now it seems to me that Kazakh poetry is very liquefied and clogged. There are many verses and poets in excess, but poetry is sparse. A lot of people are now simply bewildered with words and rattle.
Naziken is an exception. She scrupulously and demandingly treats the word with scrupulousness, carefully refines thought, avoids banality, passage lines, erased expressions, resorts to complicated metaphors, unexpected comparisons, and philosophical associations.
---
Темирхан Медетбек "Көк Түрік – Көк Бөрі" (Kazakh Edition)
Temirkhan Medetbek laureate of the State Prize of the Republic of Kazakhstan, winner of the prize of the Union of Writers of the Republic of Kazakhstan, laureate of the Beibarys Prize, holder of the order "Urmet" and several medals.
Temirkhan Medetbek is the author of several books. In the author's book "Kөk Tүrık Kөk Bөrі" there is a free literary version of the ancient Turkic letters "Orkhon-Yenisei stone texts" – "Kultegin" and "Tonyukuk" – in the Kazakh language and these works are brilliantly masterfully executed in poetic rhymes by the brilliant Kazakh poet Temirkhan Medetbek.
---
Сауле Досжан "Сағыныш…" (Kazakh Edition)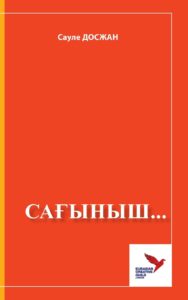 This collection of the writer Saule Dosjan includes three stories. They tell the endless struggle between human life and the passage of time, describe the vicissitudes of fate.
The story "қашқынның Зары" describes the longing for the homeland of a Kazakh refugee who was forced to hide because of slander against his good name.
The story "Yenі saғynu" describes the longing of a man's faithful friend, a domestic dog, a dog who is overwhelmed with longing for his deceased owner. And also in the story "Ақ бқлақтың адасқағы" the hero regrets his choice of a companion of his life, which does not belong to his culture, religion, and nationality, and constantly remembers his first love, yearns for the woman whom the Creator once again sends to him, lest he miss her anymore.
---
Куаныш Жиенбай "Тағдыр" (Kazakh Edition)
Kuanysh Jienbai, a talented writer, leads to deep thoughts of his readers after getting to know his works. He understands well the essence of his innovation in character narratives, like a prose writer with a unique worldview about the fate of mankind and the existence of all life, that death is not a mystery, but life. In his book "Tangir", 3 stories make readers think about the meaning of life and about people who are not predictable of their fate, only the Creator knows everything that happened, is happening and will happen. All three stories collected in this collection bear a prayer for the fate of people who are submissive to the Almighty and expect good only from the Lord.
---
Гульзада Ниеткалиева «Жүректегі иман гүлі» (Kazakh Edition)
Gulzada Nietkalieva writes about her native land, about people, about simple human feelings. Her poems found their listener. The lyrics of Gulzada are characterized by softness, gentle breathing, and special poetry.
Her book "Жүректегі иман гүлі " includes the poem "ALLAZHAR" – religious poetry, which has educational significance: a better world, purity of thoughts, sublime tone – all this affects the reader, revealing in him the best of it. Describing the beauty of the 99 names of Allah, the author fills the hearts of readers with joy. As well as poems dedicated to famous women, whose names have remained in the history of mankind.
---
Светлана Юдина "Как полюбить себя" (Russian Edition)
"How to Love Yourself" is Yudina Svetlana's first literary project, a kind of confession. An honest, open and direct story about how she was: born, matured, developed and flourished. This is a story about how to love yourself, relatives and your business.
If you want to escape from the trap of constant problems and look for your Path in life, but do not know where to start? This book will be a revelation and a desktop tool for you, applying which, you turn on the mechanism of transformation of yourself and your Life.

---
Диляра Линдсей "Музыка между строк" (Russian Edition)
Meet the new name in the world of literature – Dilyara Lindsay. Her collection of poems and short stories "Music Between the Lines" was published. The sincerity and sincerity of her works are captivating. She writes in the introduction: "I belong to a generation of people who, by the will of fate, have witnessed the collapse of a vast Soviet country. In the period before, there remained a happy, bright childhood and a long, 21-year-long musical education. " Music, despite all the vicissitudes of life, is fundamental in the life and work of Dilyara Lindsay.
---
Мурат Уали "Из Сибири к свободе" (Russian Edition)

It would seem what relation the Yalta Conference of the Three Great Powers, held in February 1945, to the life of the small Kazakh aul Kenes of the Kokchetav region of Kazakhstan could have. However, the USSR pledged at the conference to declare war on Japan within three months after the victory over Germany, decided the fate of the herder Zhanibek and his amble stallion.
In the spring of 1945, a group of NKVD officers arrived in Kazakhstan to requisition horses for the Far Eastern Front.
---
Питер Берман "Бои без правил" (Russian Edition)
The book by Peter Berman is written in the genre of an adventure novel.
"Fights without rules" is a classic sharp plot and an exciting intrigue which keeps the reader in suspense from the first to the last page. The protagonist – in the past the winner of fights without rules, now an employee of intelligence agencies – finds himself in the centre of turbulent political events unfolding in one of the post-Soviet republics of Central Asia: the struggle against the opposition and criminality rushing for power, the war of incriminating evidence, the triple murder of which he is accused …
---
Назым Сапарова "Правдивые истории" (Russian Edition)
The book is a collection of short stories that includes individual chapters: memories, family, friends, philosophical thoughts about life situations and human qualities.
The book is interesting to a wide circle of readers, as it also tells about the life of famous Kazakhstanis, which ordinary people demonstrate in their daily lives and in family relationships. These people deserved the love and respect of Kazakhstanis for their work: Gaziz Zhubanova, Azerbaijan Mambetov, Sapar Bayzhanov, Aubakir Ismailov, Horlan Kalilambekova and others.
---
Раим Фархади "Остров стихов" (Russian Edition)
The twelve sections of the book are similar to the time cycles of people close and unfamiliar to me living in the spaces of Eurasia and other continents. When measuring minutes, days, years, you suddenly find the magic twenty-fifth hour of inspiration and creativity. In the meditations on peace, harmony and love that are offered to the reader, I understand to a pain in my heart: how complicated and sometimes dramatic are the relationships between man and nature. Before and after leaf fall, lines of lyrics, ballads, song lyrics are born on the land of roots, SOS! Signals are heard, which are heard by the sensitive ears of people walking along an ecological path.
But away the gloom, and I say: "MEET IT!", Referring to all living things.
---
Денис Куваев "Дверь в сказку" (Russian Edition)
We bring to your attention a book – a tale in the style of New Age.
A little girl named Agnia suddenly finds herself in a fairy-tale world where she can understand the language of flowers, birds and trees. In communication with them, she learns about the existence of the wonderful Country – Belovodye (the likeness of Shambhala in Russian folk traditions). She decides to go in search of this Country and on her way she meets various amazing characters who show her the Way.
---
Марина Михайловская "40 храмов" (Russian Edition)
Agree that a person, having received a certain gift from above, in the process of realizing his talent, i.e. in the process of creative creation, he cognizes himself. In other words, the path of creativity is the path of quest and self-knowledge. This idea is confirmed in the poetry of Marina Mikhailovskaya. In the preface to her book of poems "40 Temples," the author points to the "three main turning points" in her life and work. The poetess calls them "Pain!", "Love!", "Philosophy!" They are the navigators of her work. Let's talk about them … The pain experienced by Marina after the tragic death of her mother, her mother, was the impetus for writing the first poem. Her heart is crying.
---
Anastasia Kuzmicheva "Belarusian Whales"
The title of Anastasiya Kuzmicheva's work "Belarusian Whales" invites readers into a world of contradictions and doubts. Indeed, while reading these verses one grasps the apparently conflicting depths of the author's own point of view – thanks to wide and clever usage of poetic figures. As such, her sky is "always without make-up", while her brain "will wipe the dream-like dust". Meanwhile, warmth, light, shame, and love, are created through the imagery surrounding a "white temple" ….. an antithesis to previous assertions. Overall, this poet's irony seems to be both subtle and comical, since one encounters lines like: "a whale escaped like all men" as a clear critique of average truth claims. Hence, those parts of the poem devoted to meaningful answers and pithy solutions remain the largest section of the entire composition. Albeit quickly followed by more questions. Curiously, neither "who", nor "what" the whales represent is ever outlined. Instead, a sense of intelligent mystery points to "the names of chapters" as our only clue. After all, we already know that " …everyone saw the whale…", which leaves each reader to make up his, or her, own mind in this regard.
Nadezhda Kolesnikova
In "Belarusian Whales" – Anastasia Kuzmicheva stuffs you into the back pocket of her stylish poetry jeans and takes you step by step on a kinetic journey of self and others discovery. For us poets, whether in remission or active, should create delightful visceral reactions – pulling at the invisible fascia between the conscious and subconscious.
Solvi Fannar
---
Madina Demirbash "The Art of Mature Love"
Madina Demirbash is an international relationship expert. She has lived and worked in seven different countries in the pursuit of the answer to one question: what does it take to be happy with somebody? It took her long years of personal and professional search to find but a simple answer: it takes one's decision to grow up. As soon as she started a process of conscious maturity, her life thrived. She had better friendships with different kinds of people, started her own international business, and most importantly – regained her inner strength. She later met her husband, with whom she continues to enjoy growing every day, overcoming relationship challenges. She summed up her findings in this book, demonstrating seven simple steps to develop maturity. She helps people rediscover and develop their ability to love and in that unleash their full potential as human beings, partners, and parents. She works with diverse people, starting from high school students to married couples on the stage of divorce. She believes every person deserves and capable of building truly happy relationship.
---
Antonina Shuster "The lines of line"
This is a biography of Elena Bezrukova, an extraordinary and fiercely determined woman whose work has had a profound impact on numerous lives in her native Kazakhstan.
Inspired by courses attended at the Elena Bezrukova Centre and her subsequent friendship with Bezrukova, the author tells how a child overcame her shyness to become a natural leader and founder of an institution renowned for enabling people to realize their potential by transforming their dreams into objectives. Bezrukova is also a well-established artist. Encouraged by Tikhonovna, she developed a new genre of art- "Projective Graphics" – and work by both women was displayed in a major exhibition in Almaty and published in an album in 2014.