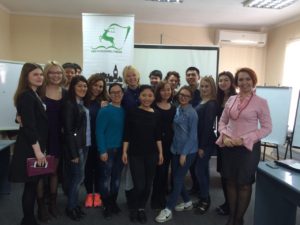 In 2016 Eurasian Creative Guild has conducted two internships.
The first internship was held in Bishkek, from February until April, where 8 interns tried their hands at 8 different specializations: office manager, specialist in marketing and books promotion, editor-journalist, event coordinator, publisher's assistant, SMM and PR specialist, project-manager and book promotion.
The selection process in Minsk (Belarus) took two months. 400 candidates were given to pass different tests. The first task was to write a review in Russian and English language on a book published by Hertfordshire press.
Only 100 candidates managed that task. The second step towards internship was an interview. Representatives of Eurasian Creative Guild asked candidates professional questions as well as general ones in order to choose really
super interns. 15 candidates passed the interview successfully, but there were only 6 cherished workplaces. That's why last but not least task was to write fundraising letter to potential partner company
of V International Literature Festival "Open Eurasian Literature Festival & Book Forum" which will be held in London from 25th till 28th of November. On August 15, six interns started their internship.
During 3 months they should work out different tasks: to arrange a lot of meetings; present in the international
arena not only Eurasian Creative Guild, but all its fields of activity; organize literary readings and other marketing events abroad; communicate with outstanding people from the world of art, literature, business and politics. Interns also were involved in the process of OCA MAGAZINE creation and preparation to V International Literature Festival "Open Eurasian Literature Festival & Book Forum".
Every week under the guidance of representatives of the Guild interns improved their skills, learned to work in multitasking mode, participated in Eurasian Creative Guild's activity, distantly promoted projects and searched for mutually beneficial cooperation. International internship provide an opportunity to teach young specialists to set priorities, work on time management and self-discipline.
At the end of November three interns went to London on International Literature Festival "Open Eurasian Literature Festival & Book Forum". One week they worked there as organizers, helped writers-participants from different countries on book launches, meetings and others events.
In April 2017 in Astana the third ECG internship began.
400 candidates were offered to pass different tests. To internship command got only the best candidates. In
this time the internship program changed – organized 4 directions – Members Liaison Office, Society of Authors,
Operational Headquarter, OEBF directorate. As curator the graduate of Minsk internship joined to Astana
team.