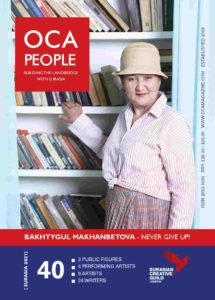 Dear friends, 
We are happy to introduce to you our new unic project created together with our partners from the editorial office of the British OCA Magazine – OCA People 2021! This is a special issue completely dedicated to the merits of some of the most prominent members of the Eurasian Creative Guild (London) this year, and we sincerely congratulate everyone who ended up in the pages of the issue and we wish not to stop there!
The OCA People is a relaunch of the 2020 release. This year, we held a vote among the members of the Guild, following which the 40 most successful personalities of Eurasia in 2021 were selected. The issue included 3 public figures, 4 representatives of the performing arts, 9 artists and 24 writers, who shared in interviews their own success stories, achievements, views on creativity and the world, and also gave their parting words to novice creators.
The project aroused great interest among a wide audience to the people of the magazine and made a very strong impression on the creative audience. The special issue received coverage in the media of different countries, was presented at the international festival Voices of Friends, where the Blue Diamonds of Eurasia conference was held, dedicated to the participants of the OCA People 2020-2021. The publication was also presented at the Eurasian Culture Week in London and at all the meetings of the Guild held in September and October. Promotion of the issue and its participants does not stop there: presentations are planned at upcoming meetings and at one of the main events of this year – at the literary festival "Open Eurasia".
This years participants:
Sabina Zulalova, Angelina Krasnogir, Olga Mitakovich, Victoria Malyushitskaya, Vera Sytnik, Adolina Gordon, Alla Kretchmer, Anna Podgornaya, Irina Yavchunovsky, Aiya Maksutova, Bakhtygul Makhanbetova, Karina Sarsenova, Marina Alyassova, Shavkat Ismailov, Daria Zalesskaya, Igor Gushchin, Lydia Drozdova, Maksat Kantarbaev, Zina Karaeva, Daria Sadygalieva, Anna Gogoleva, Anna Lari, Elena Ustyugova, Gennady Gorovoy, Olesya Zaytseva, Polina Lakhtina, Viktor Kozlov, Zhanna Shvydkaya, Natalia Naftalieva, Taina Kaunis, Ali Panther, Zebuniso Rasulzade, Symon Lord, Yulia Gutkovich, Margo Yaguda, Tatiana Edel.
Our team is immensely happy to discover interesting people, and, of course, it was a great honor for us to co-operate with each of the participants and get to know them better! We also plan to acquaint new people with the international readers and publish the next issue of the OCA People in 2022. And if you want to become a part of it, ot os already possible to take part in nomination process.
In the meantime, we invite you to enjoy the interviews of the participants in the 2021 issue. We hope their answers will help you in your creative endeavors and inspire new beginnings!