Let the warmth of friendship
take the chill from the air,
and the spirit of the season
make autumn easier to bear.
An Art is a reflection of a soul. It gives a human being the sense of satisfaction, food for thoughts and opportunities to provide your message, your ideas. In the art you can find solace, answers for your questions or just esthetic pleasure.
But let's make it clear that art and creativity are not the same things.The Art is a skill that has reached its highest level of development. Art products are aesthetically expressive. They are a fusion of truth and beauty. Masterpieces are created by expression of reality through artistic images. But what can we say about creativity? Creativity is a process where the result of the interaction of the individual with reality is something unique, new, related to the material or spiritual sphere. Creativity entails changes both in reality and in the individual. So both art and creativity have the result which we can hear or touch or see. But through art we receive the masterpieces. Art assumes the birth of an unsurpassed masterwork, it's bright, strong, not amenable to replication and mass production.
Nevertheless there's no point to neglect the latter. Moreover people hardly  can find the way or the area where they could assert themselves . That's why the presence of such projects as Eurasion Creative Week is  so vital.
And we'd love to see you among us at  Eurasian Culture Week in London Day 5. The program includes: ECG presentation , art exhibition, panel talks and concert. All details you can discover using the flyer below. 
ECG Eurasian Culture week 2020 is a unique culture festival which provides a great chance for writers, poets, artists, directors, singers, designers to meet each other. This year's ECG-2020 is the 4th culture week. If you join us, you will spend a fascinating and lively week packed with events including activities such as the presentation by the " Voices of Eurasia"  poetry group.
Date: 5th of October
Time: 5.00 p.m.
Venue: Rossotrudnichestvo, 37 Kensington High St, Kensington, London W8 5ED.
During the pandemic Rossotrudnichestvo strongly recommends you to follow these rules:
 – wear a mask during the whole event

 – have your own bottle of water

– follow the rules of social distancing

– provide data for the national system for tracking cases of coronavirus infection Track and Trace and fill the form  (the form will be issued at the entrance)
If you have symptoms of a coronavirus infection, please stay at home.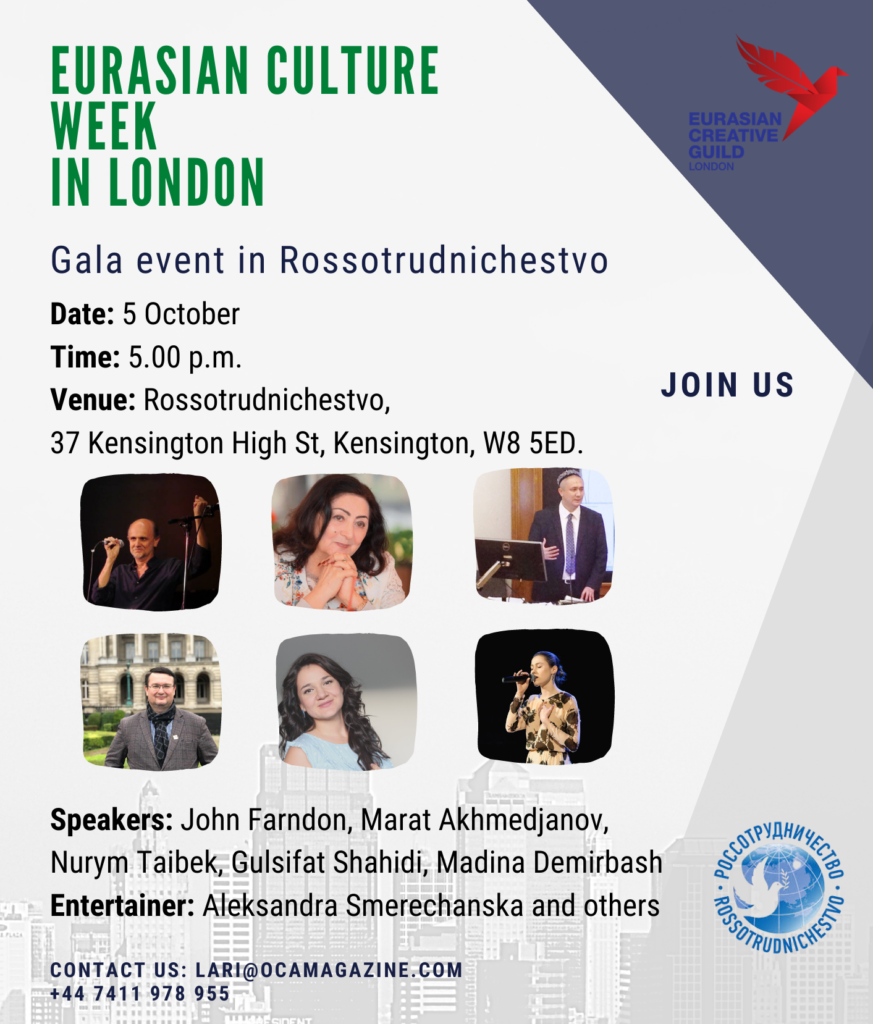 Looking forward to seeing you at our annual creative week in London. 
Due to covid-2019 restrictions places are limited so your confirmation is essential to us.
Kindly R.S.V.P. to lari@ocamagazine.com